Instant win up to

TGAME 200000
Description
Every world has its secret places which are hidden from strangers. These places are full of mysteries! Try to disclose one of the secrets using your bunch of keys and possess the treasure! Only your luck might help to find an appropriate key!
Rules:
You have to scratch all 9 fields of the card. You win if 3 fields out of 9 match, the prize amount will be displayed on a scratchcard. After the purchase is made, the request is sent to blockchain, however the execution of scratchcard smart contract takes time (depends on the network load). If you decide not to wait a response from blockchain immediately and close the page, you can see the results of the game later in your account.
| Prize | Chances to win |
| --- | --- |
| TGAME 200000 | 1 out of 5000 |
| TGAME 5000 | 1 out of 500 |
| TGAME 1000 | 1 out of 250 |
| TGAME 100 | 1 out of 10 |
| TGAME 50 | 1 out of 2 |
Truegame is a blockchain based online game room for lotteries and gambling. It enables you to participate securely in smart contract lotteries, win valuable prizes and prize money in instant ticket games, play dice, and many other smart contract games. We are continuously updating our games collection, and each game is based on smart contracts and open source code.
Your message has been sent.
Thank you for your interest in Truegame project.
Truegame is the first fully integrated platform for lotteries and games of chance based on smart contracts.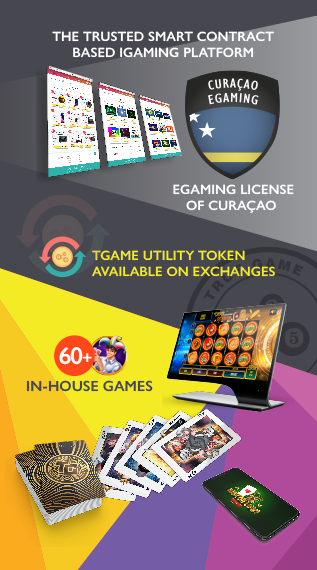 By creating an account I confirm that I am over 21 years old and accept
Terms and Conditions
. I also confirm that the law of my country doesn't prohibit me from playing gambling.
Enter your email address and we'll get you back on track